Day

Venue:
The exhibition hall of the Center for Visual Art is enclosed by glass for half of its circumference. Thus, there is contact with the street which is constantly busy because of shops and traffic.
Give that this hall is continually affected by natural light and darkness, I have created and artificial twenty-four-hours which, because of my stringently systematic approach gives form to the relation between time on the hand and the transition between light and dark on the other.
The natural and the artificial cycles become completely independent of each other but one can compare them constantly with each other from both inside and outside. The can entrance or suppress each other.
In my twenty four-hours light and dark balanced.
I have chosen the 21st March for the performance of this work because, according to the calendar, natural light and dark are also balanced on that day.

Installation:
In the middle of the hall I have placed a metronome preset to one second intervals. Twelve 100 watt lamps are placed around this (on stands 75 cm high) in a circle of four meters diameter. There is time schedule and clock on the wall both of which are lit by a soft light.
In my system, the increasing and decreasing of the light is based on producing light more or less frequently each hour. This process is as follows:
If I walk round the circle of lamps taking one step every second, I can switch them all on in 30 seconds as I pass by, and, in another 30 seconds, I can switch them off again.
I call making this circuit (which is in itself a small "Day") a "light-minute".
Following the above schedule, more or less of these light-minutes are completed each hour (with variable pauses between).
Much activity is needed to produce a lot of light. Less light requires less activity.
| | |
| --- | --- |
| year | 1985 |
| date | 21.03.1985 |
| location | CBK Rotterdam NL |
| curator | Hans Walgenbach |
| photography | Belle - Art Productions / Charley van Rest |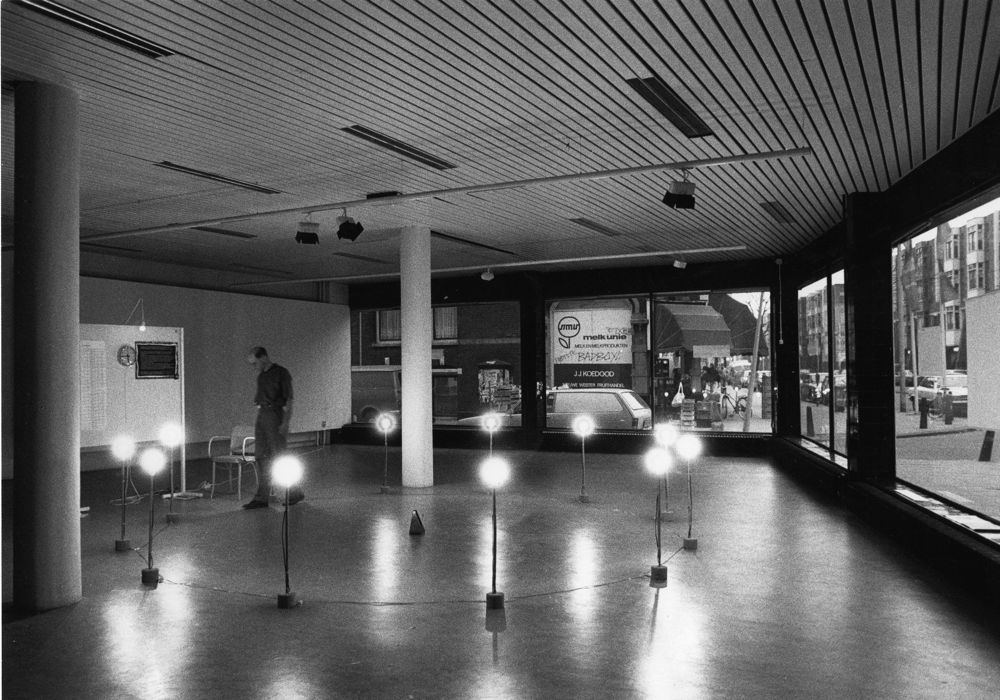 CBK Rotterdam 1985 photo: Arnold Belle