Music & Film

A presentation of works in which music and film are
conceptually interwoven, either by collaboration
between filmmaker and musician or by the
individual artist who combines both disciplines.

PRESENTATIONS

Jacky Sawatzky NL/CA / Wende Bartley CA Soundlines 2010
Jacky, Dutch artist since many years living and working in Canada, works with different media, but prefeberably with video. This turns out in sometimes very clever and witty project based works, like Cats Revolt! - a project wherein Uma (the cat) expresses her concerns regarding the realtionship between humans and their laptops. sometimes using complicated digital media techniques lik in 
Social Metronome, a portrait of a backally in Vancouver seen through the 'eye' of a programming language, which project we showed in Sub urban video lounge.
In Soundlines, a quite lyrical work, Jacky collaborated with the Canadian composer Wende Bartley: A panoramic camera-movement through a forest after a violent storm, is combined with a sound scape existing of three female voices and a layer of electronic sounds.
Wende Bartley lives in Toronto and is a composer of electroacoustic music, writing in a variety of media, including computer music, film, dance and concert music, experimental radio documentaries, and a recent work with pilot virtual reality technology. In many of her compositions she combines live voices or acoustic instruments with electronics. Soundlines will be performed with the voices of Cora Schmeiser, Stephanie Pan and Inga Schneider

Pierre Bastien NL/FR Sounds can dance 2011
In his performances Pierre is both musician and live video editor. Since many years he builts and operates his automatic orchestra from Meccano- elements powered by electro-motors, in combination with other automatic play tools. By activating his 'machines' Pierre creates a sort of a soft techno-sound, while playing along on the trumpet. Over the years he expanded his orchestra with turntables and uses video cameras to show the delicate movements of his machinery on a large screen. While playing he is constantly busy manipulating machines and camera's and sounds.
Pierre Bastien studied eighteenth-century French literature at University Paris-Sorbonne. He started building his musical machinery in 1977 and composed for many years for dance company Pascal Comelade. Since 1987 he concentrates on his mechanical orchestra through solo performances, sound installations, recordings and collaborations with such artists as Pierrick Sorin, Karel Doing, Jean Weinfeld, Robert Wyatt or Issey Miyake.

Karel Doing NL / Michal Osowsky NL/PL Liquidator 2009
The black and white documentairy film Haarlem, 1922 by Willy Mullens, underwent serious material damage over the years. Some years ago the film was restored as much as possible. Film-artist Karel Doing was inspired by the visual appearance of the damage. He confronted the film with new digital techniques like Optical Flow and Morphing, thus giving it a fascinating new life. Polish/Dutch composer and performance artist
Michal Osowsky developed a soundtrack which is directly connected to the images. He transformed the density-changes into a musical sound scape using complexe filters and distortions, partly performed live. Karel Doing is a filmmaker whose experiments with all aspects of film resulted in an enormous variety of works, ranging from experimental films with found footage, live film-performances in collaboration with musicians, dancers and visual artists, up to computer generated video animation. Michal Osowsky studied electro/acoustic music at the Institute of Sonology in Den Haag, classical composition at the Rotterdam Conservatorium and followed courses in interdisciplinary performance at
IRCAM in Paris.

Heleen van Haegenborgh BE Zen For Film (Nam Yum Paik 1962 - '64)
she is a young and promising Flemish pianist, who besides performing contemporary compositions, also initiates interdisciplinary projects in collaboration with dancers, filmmakers, visual artists and improvising mucisians from various musical and cultural backgrounds. Her repertoire contains compositions by mostly 20th century composers like George Crumb, Morton Feldman, Thomas Smetryns, Alvin Lucier, Tom
Johnson...... She studied with famous piano performers of contemporary music like John Tilbury. Some years ago Edwin Carels, art-programmer of International Filmfestival Rotterdam, approached her with a request to develop a musical concept for Zen For Film (1962 - '64) by Nam Yum Paik. In her performance, during which a 16 mm blanco film is screened, she layers live recorded sounds, amongst of which those of a prepared piano, related to the densification which takes place in the film screening by the collection of dust in the run of time.

Marcus Kaiser D Unterholz #7 2009
German musician and visual artist. Studied cello at the Robert Schuman musikhochschule in Düsseldorf, and visual arts at the Kunstakademie Düsseldorf by Klaus Rinke wo was a sixties pioneer in exploring seriality and movement in time and space. Since years Marcus participates in Düsseldorf-based international composers collectiv Wandelweiser. From 1997 he organizes the Space for interdisciplinary presentations Kaiserwellen. Marcus creates large-scale performative installations which include architecture, objects, video-projections and performing musicians, in which music an film are equivalent disciplines. He himself always appears in his projects as a performing musician, either live or filmed. In Unterholz #7 Marcus will perform together with musician and leader/initiator of Wandelweiser Antoine Beuger and flemish pianist Heleen van Haeghenborgh.

Florian Cramer / Cora Schmeiser NL/DE Coraria 2009
Cora, incredible singer/voice-performer specialized in medieval and contemporary music. She explores the voice in as much as possible directions, performs most extreme works like Kurt Schwitter's Ursonate and Récitations by Georges Aperghis. Besides her performances Cora also puts together programs and concerts in the Netherlands and Germany. She was a great co-organizer in the Sub urban event series Words
Live 2008/2009. I see Florian as an artist who approaches technical processes in vision and sound as exploring them again from the basics. His background is 'comparative literature and art history combined with practical experience in computer programming, Unix computing, software and copyleft culture, experimental arts, poetics and aesthetics'. In the video piece Coraria, 2009, Cora performs one part of John Cage's Aria
(1958). Florian shows Cora's performance in the colours that were given in Cage's score for Aria, in which the performer has to use a particular
voice for each given colour. The work is beautiful in its simplicity, as close as possible to John Cage's concept. I asked Florian to come up with a
live version of this work. We are very curious.

Faces NL Mumler 2010
Mumler was devloped from a collaboration between filmmaker Joost Van Veen, electro-musician/composer Huib Emmer, guitarist/songwriter
Lukas Simonis, Cello Player Nina Hitz (CH) and Forte Piano player Kaoru Iwamura (JAP). 
Image & Sound are equally important in the works of Faces. Joost Van Veen made the images, Emmer & Simonis - with a strong influence from the other members of the group - wrote the compositions. Joost van Veen's screenings are often live performances in collaboration with artists from other disciplines, in which improvisation
plays an important role. The musicians in the group are all people who work in various ensembles and settings on an improvisational basis.
Mumler is inspired by the 19th century American engraver and photographer of the mind William Mumler. The atmospheric mix of footage from early films with electronic and acoustic sounds creates a both esthetic and amusing experience.

PROJECTIONS

Danielle Lemaire NL Electronic Playboxes 2005 1:57
Danielle who is drawing, painting, singing, performing, also makes video works which sometimes have an autonomous live, sometimes are part of her performances. In whatever she creates, she always expresses a love for handcrafts, folk art, housewives art, the friendly simple things that decorate our lives.
In Electronic playboxes, which is an animation with flowers, she combines the soft rhythm in the appearance of the flowers with the lovely music box sounds by which image and sound fully melt together. But it would not be according to Danielle if there was'nt some strange unexpected change in sound and image.

Klaus Wyborny DE Studien zum Untergang des Abendlandes 1979 - 2010 fragment New York 7:00
'Studien zum ....' which was successfully screened in this years Rotterdam International Film Festival, is a hallucinating experimental work in which music and image are interwoven in a very radical system: for each note of the string quartet in Schönbergs twelve-tone system, an new image appears on the screen. This very severe connection between the basic elements of music and stills taken from mostly industrial
surroundings forced into an artificial movement, creates a metaphysical and at the same time poetic experience.

Arnold Marinissen / Rob Marinissen NL Prepared Forest 2008 8:00
Arnold is the most versatile and creative percussionist I know. Since many years he plays an important role in the Ives Ensemble and travels around the world with performances where he works together with singers, dancers and visual artists.
Many important contemporary composers wrote pieces to be performed by Arnold who often combines his percussive activities with singing and/or speaking. In Prepared Forest, a collaboration with his brother and filmmaker Rob, Arnold beats trees with enormous pieces of wood, thus creating a sort of jungle techno which is both beautiful and funny.
| | |
| --- | --- |
| year | 2011 |
| location | Goethe-Institut Rotterdam |
| brief description | a presentation of live artworks in which music and film are conceptually interwoven |
| performed by | Karel Doing Michal Osowsky Jacky Sawatzky Wende Bartley Cora Schmeiser Stephanie Pan Inga Schneider Pierre Bastien Heleen van Haegenborgh Lukas Simonis Huib Emmer Nina Hitz Joost van Veen Kaoru Iwamura Florian Cramer Arnold Marinissen R |
| curator | Toine Horvers |
| photography | Koos Siep |
| project or event | Sub urban live |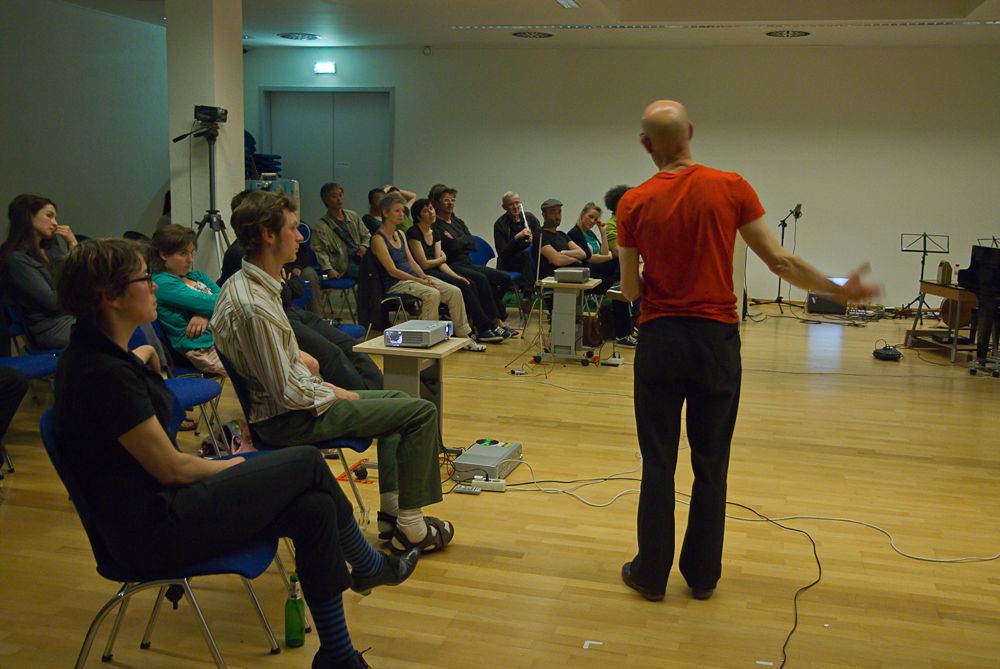 Music and Film in Goethe-Institut Rotterdam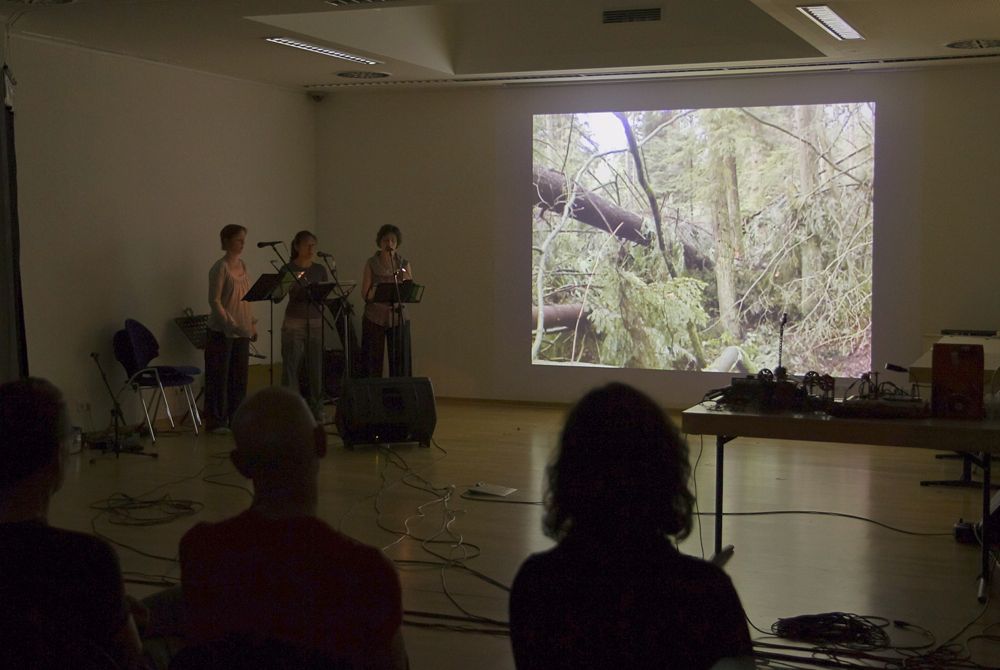 Jacky Sawatzky/Wende Bartley/Cora Schmeisser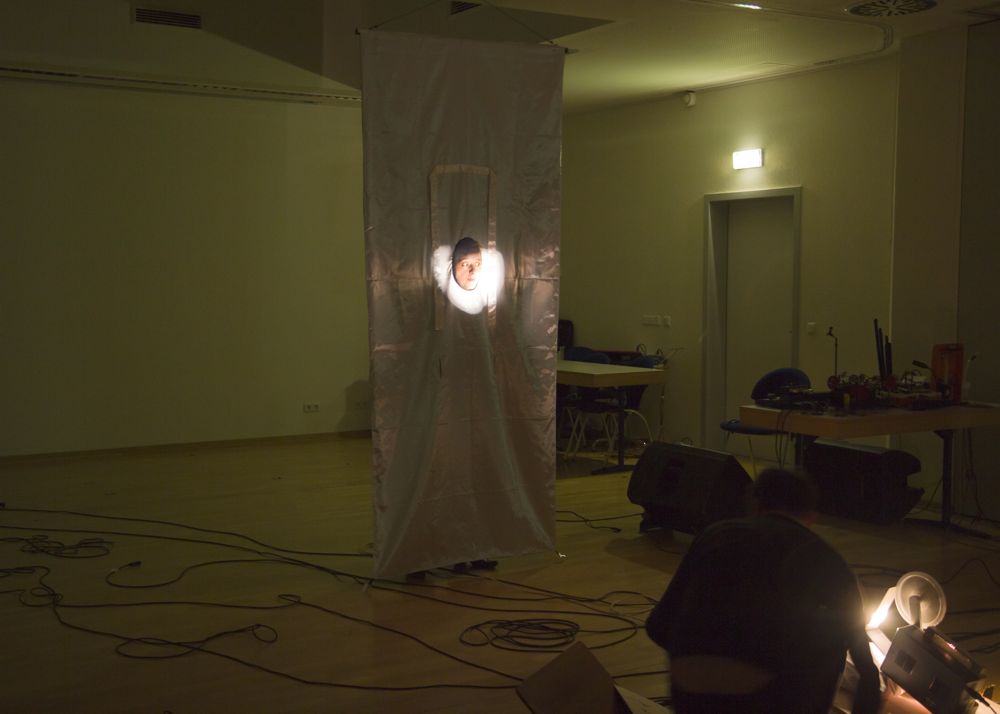 Florian Kramer/Cora Schmeiser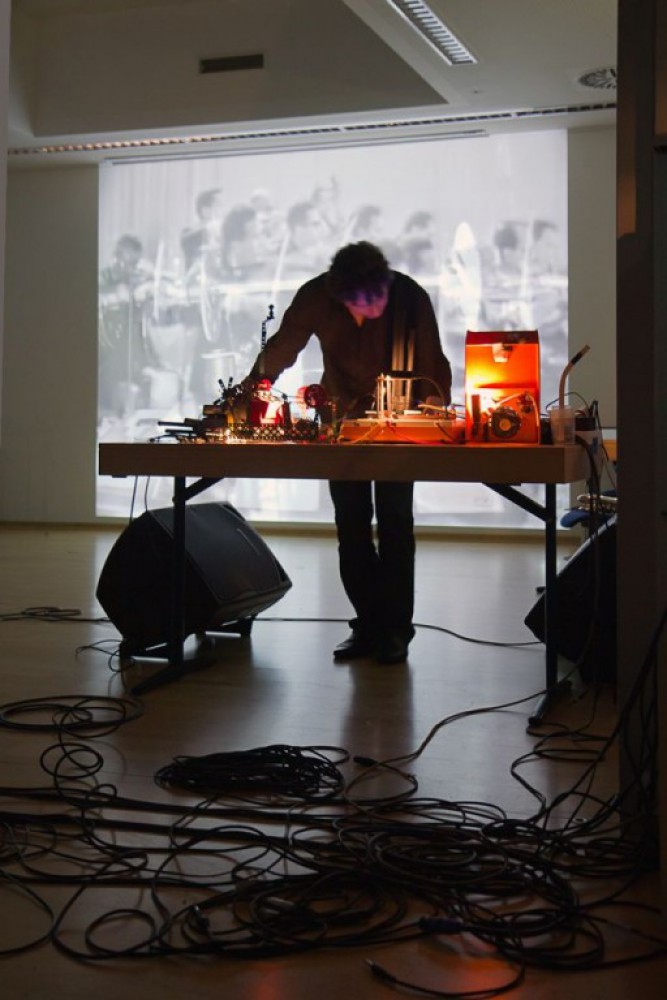 Pierre Bastien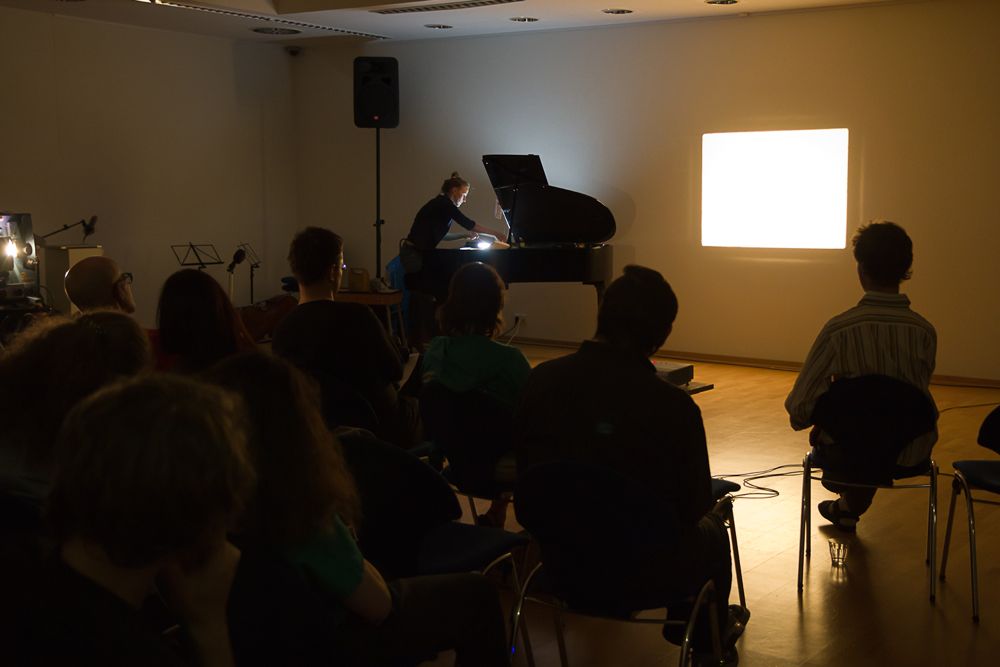 Heleen van Haegenborgh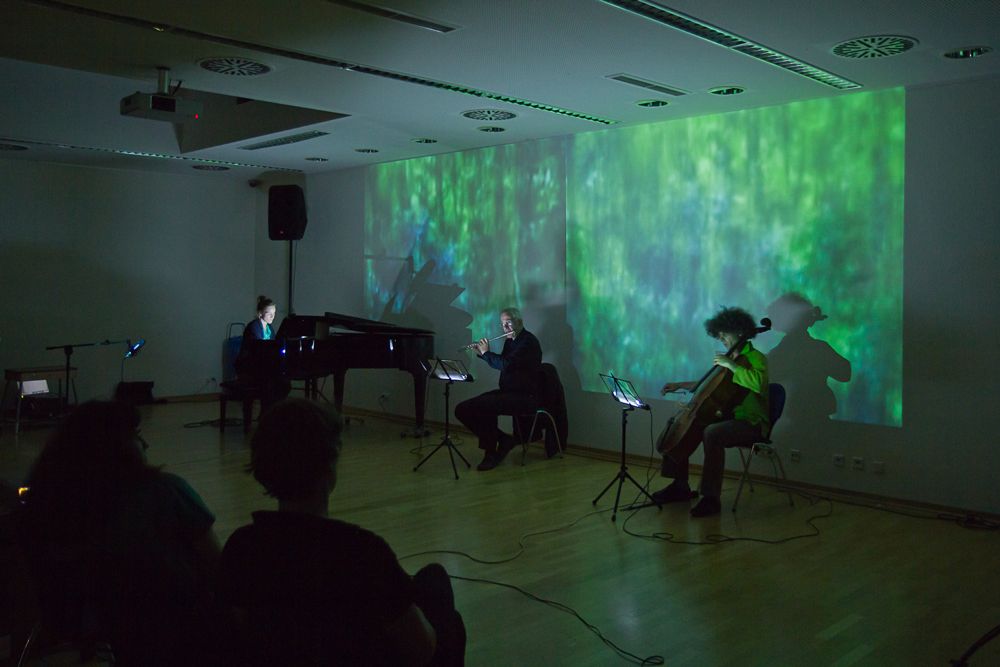 Marcus Kaiser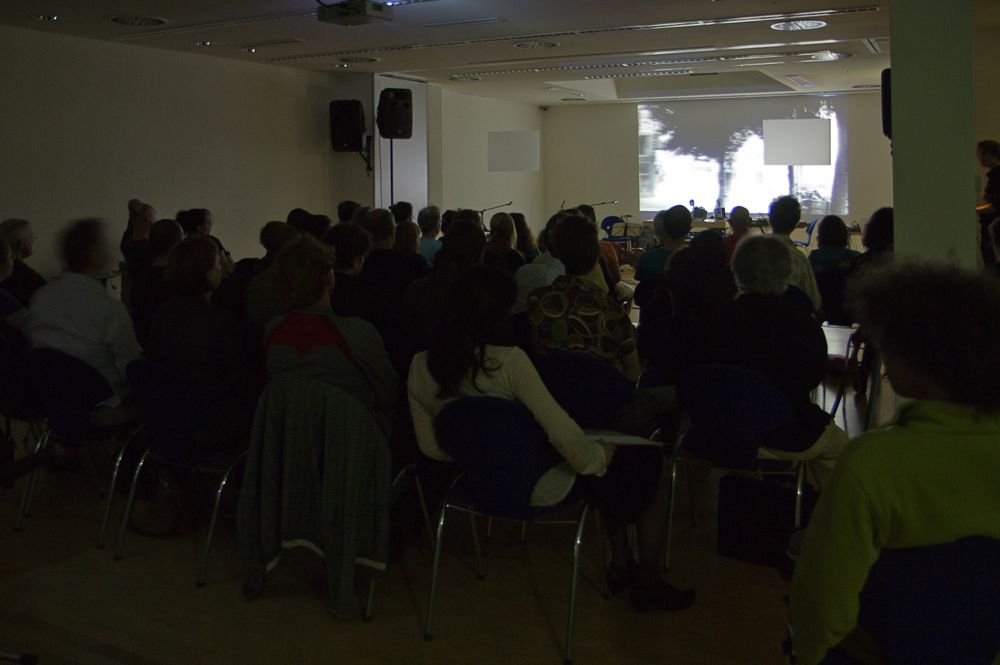 Karel Doing/Michal Osowsky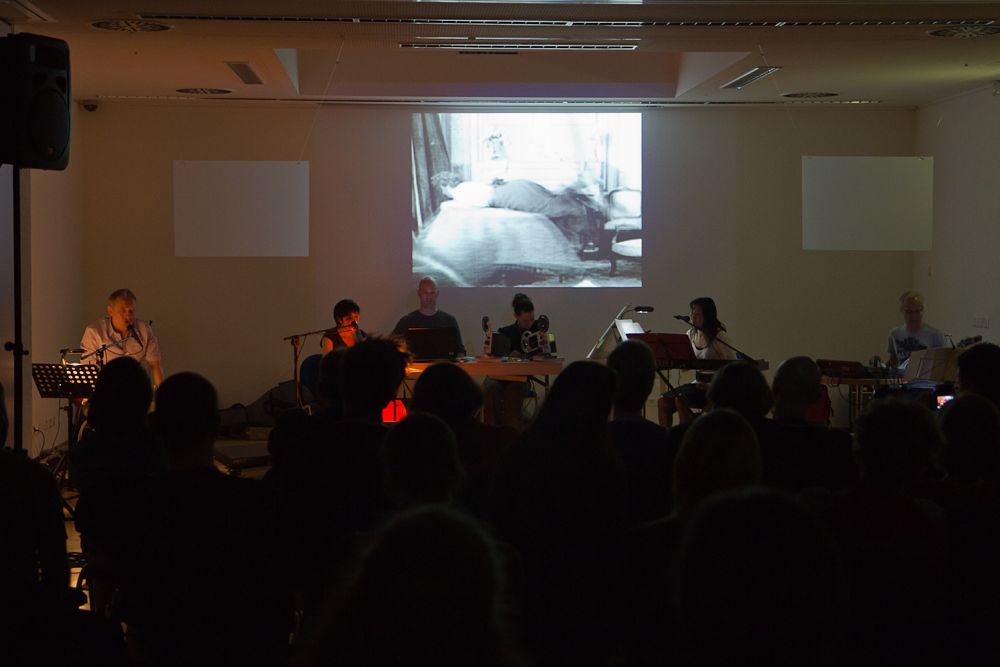 Faces